Artinii Content Delivery
100% secure, fast, cost-saving and time-efficient resource for digital distribution of AV content.
How about shortening the delivery process of films from distributors to the audience? How about cutting out all the unnecessary costs connected to physical film shipment, the time spent on logistics and the carbon footprint left behind? Artinii has developed several tech-based products that are here to serve exactly this purpose. On the website, you find the innovative technologies to safely promote your uploaded AV content, efficiently deliver it to any place you favour, and even a platform for organising an online festival.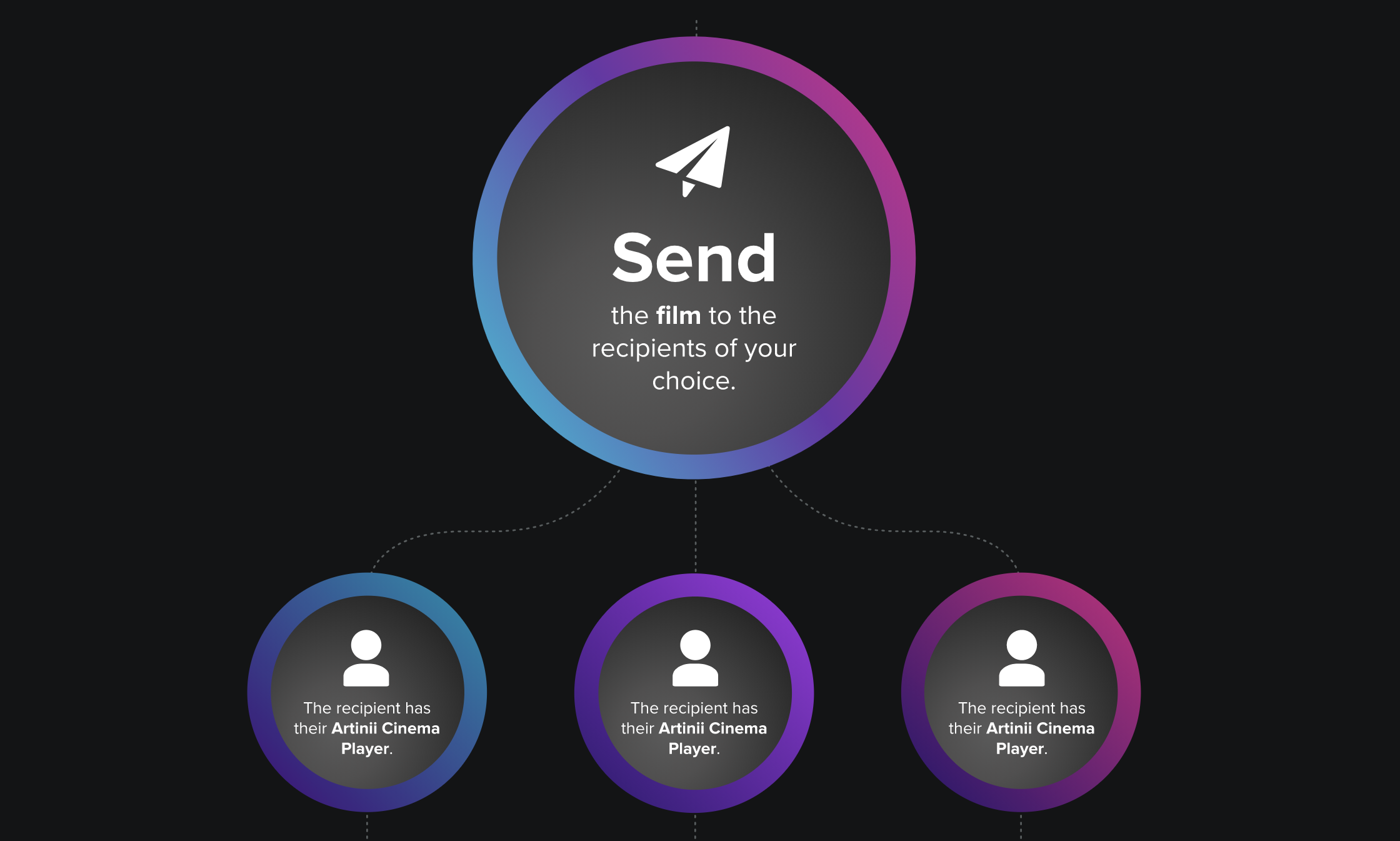 Among these gems, there is also a key one... the Artinii Cinema Player which provides the highest security measures for your distributed content. You can download it for free on our website (the macOS version) or on the MS Store for Microsoft. ACD streamlines the delivery of content to destinations anywhere in the world within only a few hours and you are still in control over the sent films.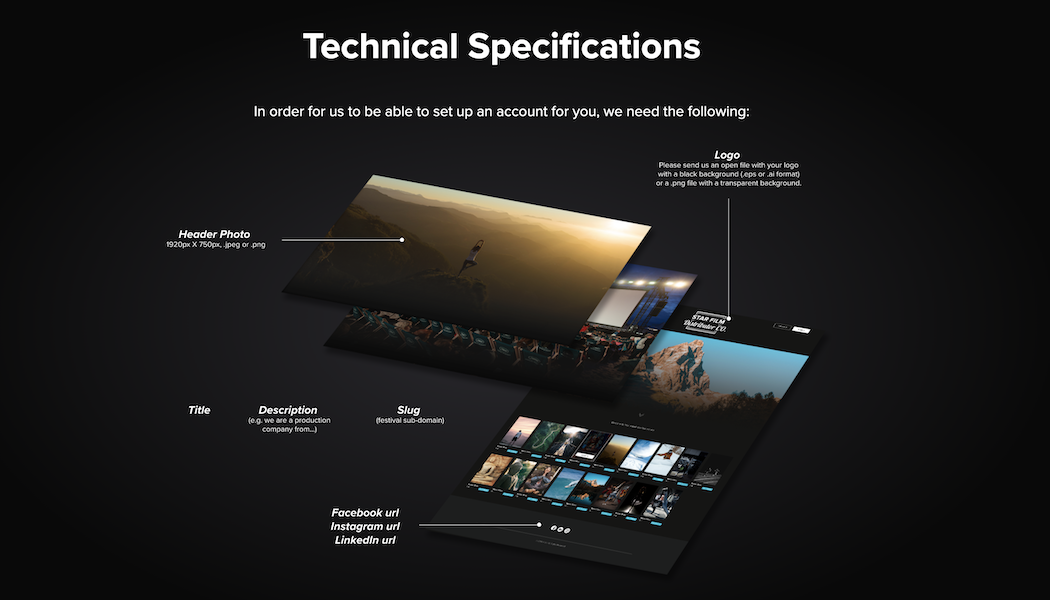 Let's point out the benefits of Artinii Content Delivery
SUPER-FAST DELIVERY ANYWHERE in the world, while maintaining the highest image and sound quality. There is no limitation for screening regarding the internet connectivity, which is needed only for the film download. The screening itself can be operated completely offline. DETAILED OVERVIEW for you to maintain data regarding the screening places of your movie and the estimated audience is provided through the Artinii Cinema Player. SMART DATA COMPRESSION allows the most efficient audiovisual content delivery. Not degrading the quality of your film. HAVE IT UNDER CONTROL when a festival is held. You manage the number of licenses that are being sent - and therefore played - to the specific place. ALL OPTIONS ARE OPEN Since you manage your licensed content digitally online, there are no physical limits to where that licensed film can be delivered. It is completely up to you if you send it to a cinema in India or to hundreds of film festivals around the world that are held online.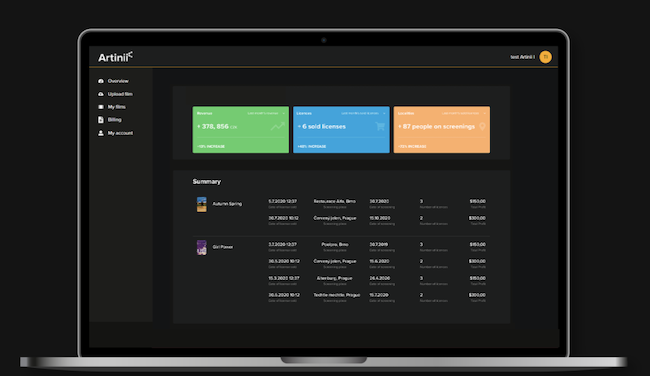 Artinii as a company
Artinii is a cloud-tech driven media enterprise, headquartered in Prague, Czech Republic providing revolutionary
 solutions for secure digital distribution of audio-visual content. The DaaS (Delivery as a Service) launch products 
represent the core of Artinii ́s business.
 Artinii is powered by advanced digital film distribution technology and enables a new online marketplace for public 
screenings enhanced by cutting-edge content protection features. The 2021 represents an introduction of the new, long-awaited, complex solution for
 hybrid festivals giving festival organizers total control over the offline, as well as online editions of festivals from
 one central programming dashboard. Artinii's goal is to simplify the distribution process, broaden film ́s target audiences, and make it easier for
producers, IP owners, and distributors to reach audiences worldwide. 
In addition to first-in-class video and audio security measures, Artinii's solutions significantly reduce distribution
 costs enabling both emerging and established filmmakers to efficiently get their work to global audiences.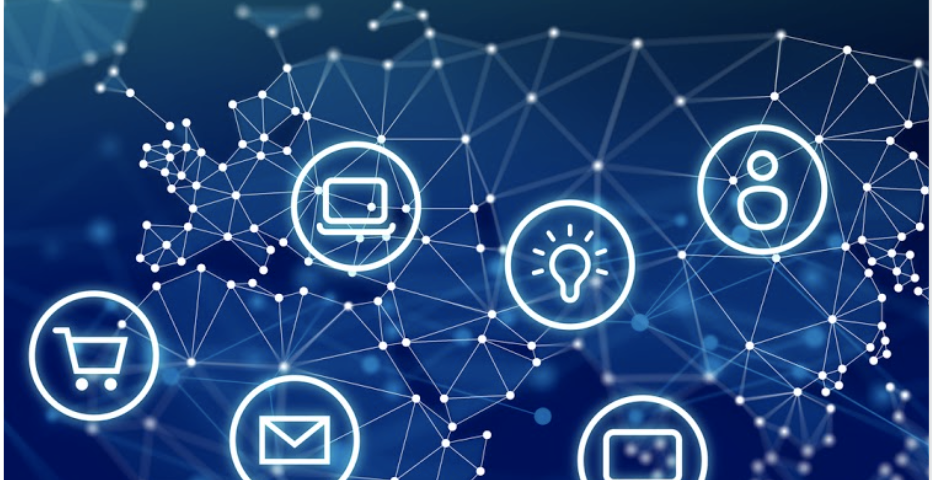 Follow us on social media
Follow us on social media for more interesting information, tutorials, news, and even events created in cooperation with Artinii technology.