Artinii Film Marketplace: Film Licenses for Public Screenings Fast & Easy
What is Artinii?
Artinii is a cloud-based tech-driven media enterprise, headquartered in Prague, Czech Republic providing revolutionary
 solutions for secure digital distribution of audio-visual content. The DaaS (Delivery as a Service) launch products 
represent the core of Artinii ́s business.
 Artinii is powered by advanced digital film distribution technology and enables a new online marketplace for public 
screenings enhanced by cutting-edge content protection features. In 2021, Artinii will introduce a new solution for
 hybrid festivals giving festival organizers total control over the offline, as well as online editions of festivals from
 one central programming dashboard. Artinii's goal is to simplify the distribution process, broaden film ́s target audiences, and make it easier for
producers, IP owners, and distributors to reach audiences worldwide. 
In addition to first-in-class video and audio security measures, Artinii's solutions significantly reduce distribution
 costs enabling both emerging and established filmmakers to efficiently get their work to global audiences.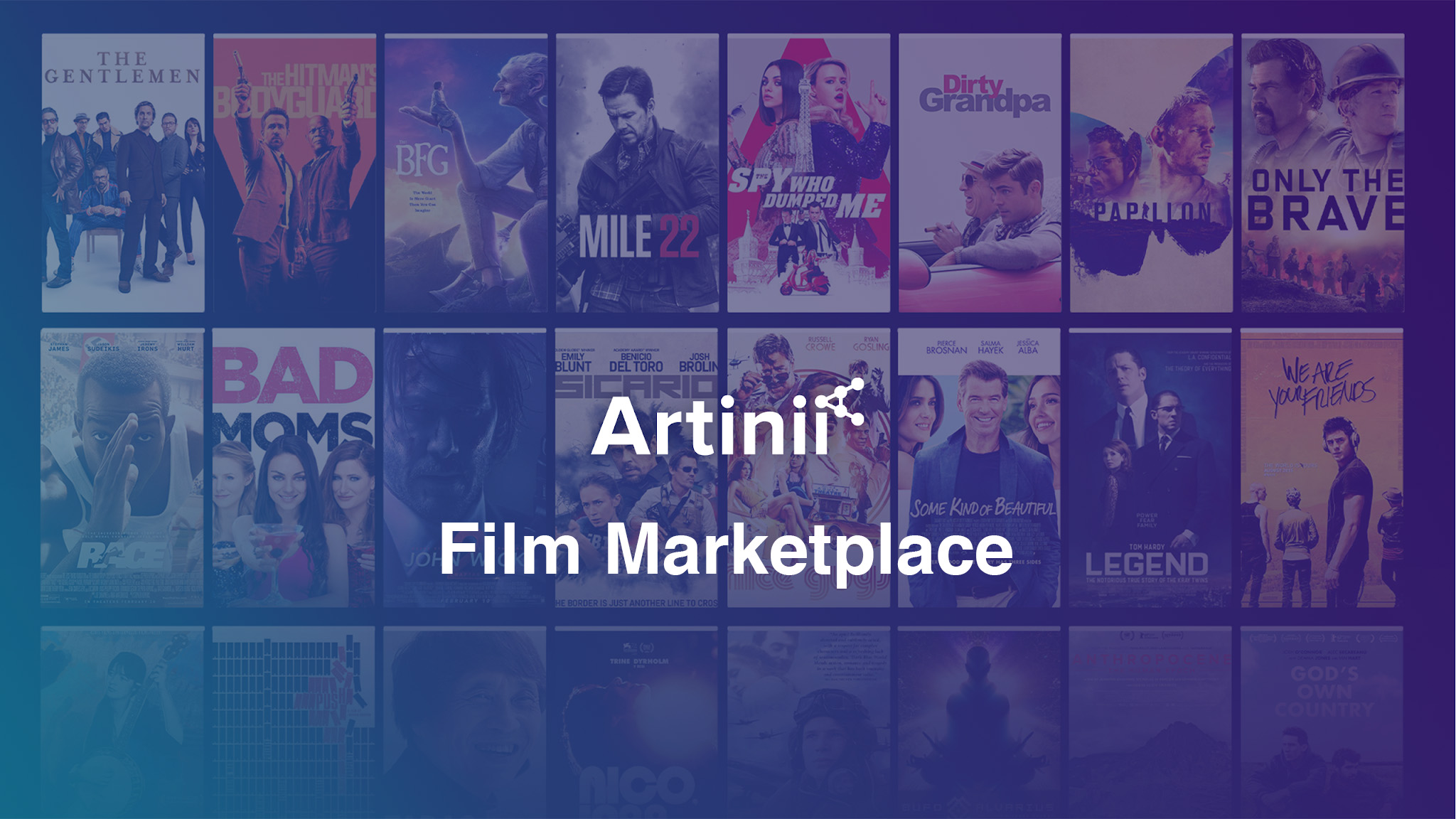 Artinii Film Marketplace
The goal of the Artinii Film Marketplace is to connect filmmakers and anyone who wants to organize a public screening and this way being able to fill the gap in the current distribution model, as the co-founder of Artinii Vit Krajicek said: "We want to add another lane to the highway of film distribution." Artinii Film Marketplace is a ready to go film library for business owners, event organizers or anybody who would like to organize a public screening. No need for lengthy talks over the phone with distribution companies, no need for weeks of waiting for a single film license. Just choose a movie in our library, finish the purchase steps and voila - you can organize a public screening for hundreds of people legally that very night. To screen a film you will then need a projector, a Windows or a macOS computer and a white wall. Movies are being screened through our free to download Artinii Cinema Player which ensures high quality of the film distribution and offers both filmmakers and screeners several benefits.
What are the benefits?
For film professionals  Your movie is encrypted, watermarked and can't be copied to a desktop from the player. The player also detects and stops any screen-recording softwares and sends you data about every screening of your film. For screeners  Create a playlist of movies for even weeks in advance, add advertisements and jingles, place them in your player library. Screen in high quality made for screenings, at the same time be protected against unexpected events like electricity malfunctions, have the option of one extra license in case things go wrong. Submit your issue explanation for a review to not be charged for the extra license.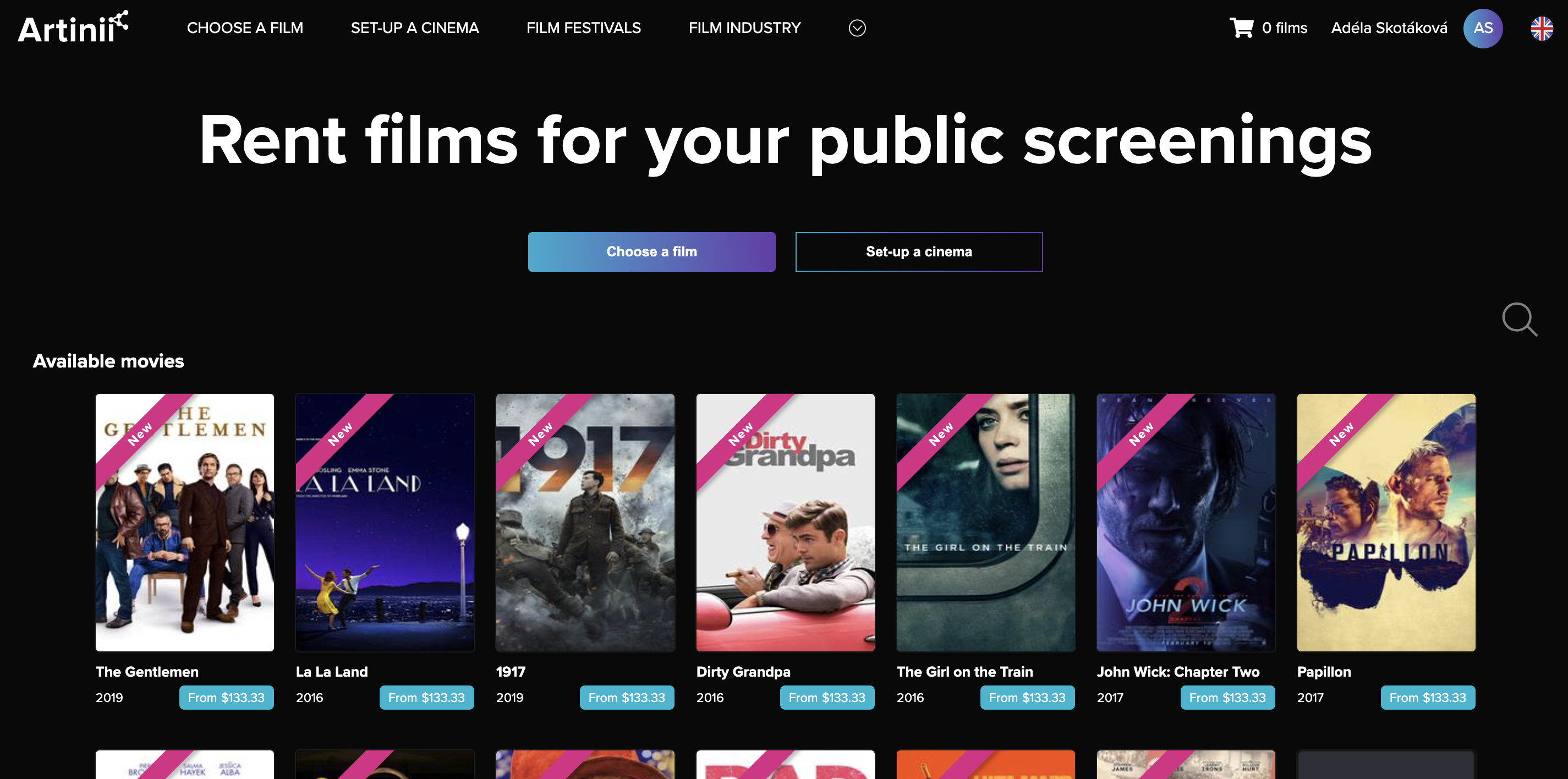 Simply go to the Artinii library, choose a film and screen
Film screening for more than 6 people is considered a public matter, therefore using Netflix or HBO as a movie source on such events is no longer legal. Fines for such illegal steps could go up to tenths or hundreds of thousands of dollars. Is organizing a public screening hard? NO! These are the only devices needed: A projector A screen A computer A sound system Artinii Cinema Player (ACP) - free to download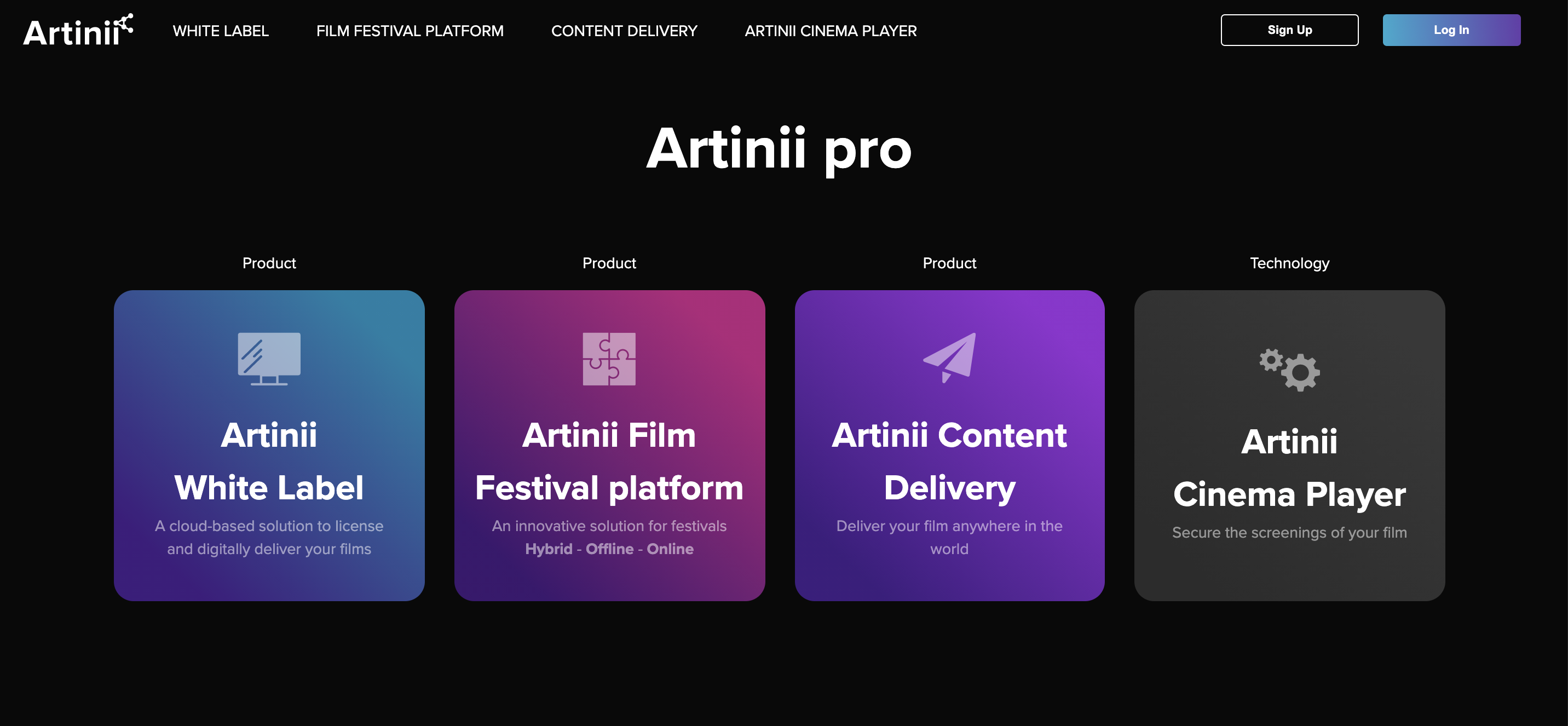 Artinii is not just the Artinii Film Marketplace (PRODUCT 1)
---------------------------------------------------------------------------------------- Introducing Artinii Pro PRODUCT 2: ARTINII WHITELABEL Artinii's White Label is a cloud-based solution that helps filmmakers, producers, distributors and other content owners efficiently online promote, offer, license and digitally deliver films to destinations anywhere in the world, including cinemas, schools, restaurants, festivals, institutions, and more. PRODUCT 3: ARTINII FILM FESTIVAL PLATFORM (AFFP) An innovative solution for festivals Hybrid - Offline - Online With Artinii, you can be one step ahead of the competition and have your festival ready for an online, as well as an offline in-person version at the same time! The Artinii Film Festival Platform enables you to set up an in-person festival, move it online, or present a true Hybrid online/offline Festival experience in a streamlined, secure and easy fashion PRODUCT 4: ARTINII CONTENT DELIVERY Deliver your films anywhere in a green and cost-efficient way. ACD is an environmentally friendly tool to deliver films anywhere in the world fast and in a cost-efficient way. Simply create your account, upload your films and send them out to the world from your secured profile. PRODUCT 5: ARTINII CINEMA PLAYER The innovative & secure technology behind every Artinii product. Free to download for Windows and macOS. How can ACP secure public/home screenings? - Disables any screen recording software - Decrypts movies on-the-fly - Controls the number of paid licenses - Doesn't screen above the paid amount of licenses - Provides detailed reports about screenings Other benefits? - Create your own playlists - Add ads and jingles, lock them with the film - Add your own films - Screen in the highest video & audio quality - Be directly connected to the Artinii Film Marketplace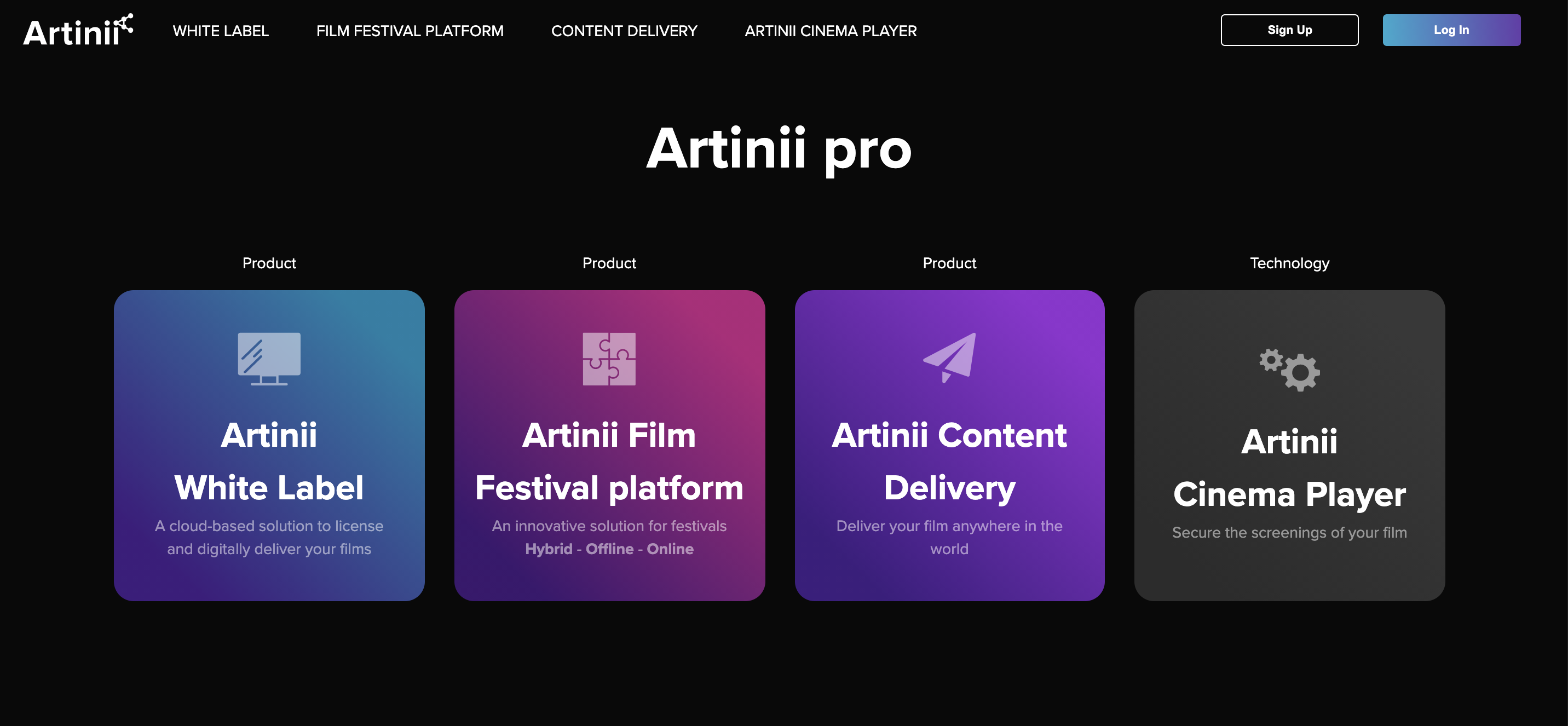 Follow us on socials & discover more content
Follow us on social media for more interesting information, tutorials, news, and even events created in cooperation with Artinii technology.